Information Center:
"I thought my oil change was going to be cheaper? Why is it so much?!"
We sometimes get queries from customers who are shocked at the cost of their oil change when they thought it would be cheaper.
Gas and diesel engines are very different, we're here to help break down the difference in cost.
Back-end Diesel Engine vs. a Gas Diesel Engine in a Class A Motor Coach. What are the differences? Requirements for an Oil Change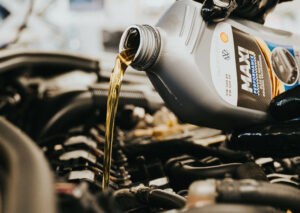 How is an oil change in a Diesel 'rear-end Pusher' compared to an oil change in a gas engine for a Class A Motor Coach?
Maintenance can be more labor intensive with higher part costs in diesel engines. But you don't need maintenance quite as often. An important distinction – essentially pushers are semi-truck engines, with the same manufacturers for both. So, let's break this down:
How often do you have to change the oil?
Diesel – every 10k-15k miles, compared to a gas engine, which is every 3k-5k miles. So, for the cost – you get between double or triple the length.
What are the price differences?
An oil change in a typical Class A Motor Coach with a gas engine is only $170. But, for a diesel engine, the low end of the pricing for an oil change is $450, and the high end is $750. Here's why:
1. Diesels require 24 quarts of oil. We charge $9 for oil, so that's $216 in oil!
2. The oil filter for a diesel is $135.
3. Diesel service requires 3 hours labor.
4. The cost for an Air filter in a diesel engine is between $300-$400.
5. As a courtesy, we lube the Zerk fittings too and check all the fluids too – transmission fluid, Rear differential fluid, and Brake fluid.