What are the telltale signs the brakes on your trailer are worn and it's time for an inspection? After a trip, or, once per year is wise. Even if the brakes have had little use, load and weight may cause uneven wear on your braking system.
Some obvious signs that your brakes are in need of replacement include noise, pulling, pulsing and pedal depression during braking. In extreme situations of brake failure or brake component failures, your wheels can lock up while travelling, causing severe tire damage and it will smoke out drivers travelling behind you. This is what happened to the customer of this project. Fortunately for the client, nobody was injured. However, to get the trailer to Pro World, the customer disabled the brakes (not advised!) by draining the brake fluid from the reservoir. What this means is the the client was travelling with a trailer that had no active brakes which was not only illegal, it was unsafe.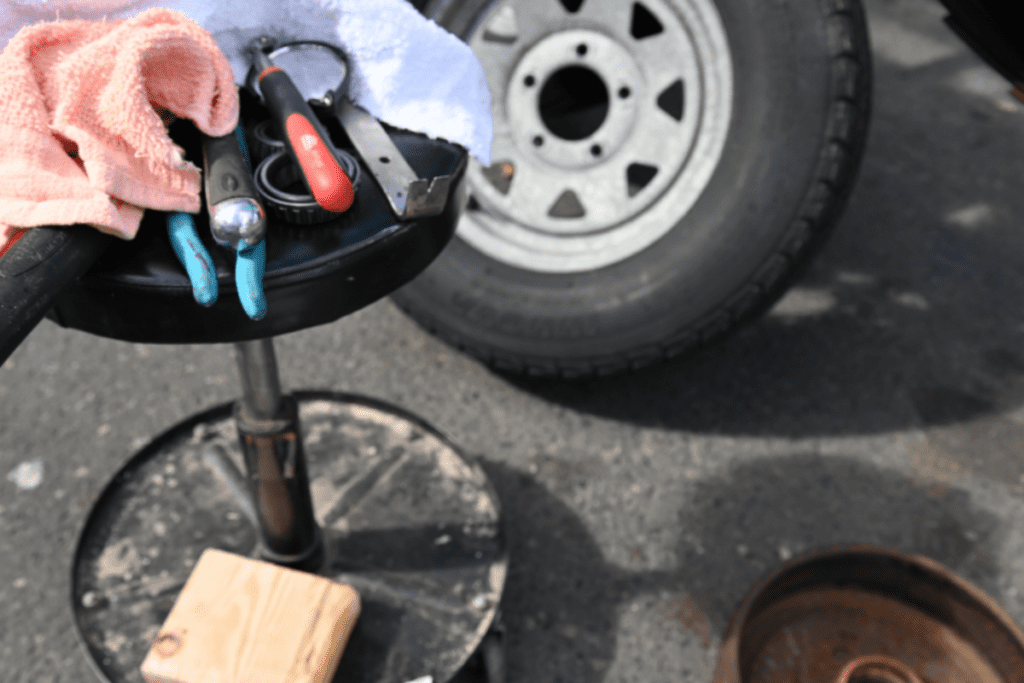 Once Joe cracked into this project he said "the bearings are in shambles and partially siezed, which is what rendered these brakes unmovable. I dealt with one that was so bad one time, the wheel actually came off the axle".
After Joe cleaned all the debris out of the hub he had to make certain the spindle didn't have any bad grooves which is what the bearings will ride on. Because brake pads are porous and there was grease all over the old brake pads, those had to be replaced along with the bearings. As you can see from the images below, the backing plates were heavily rusted and also had a significant amount of grease on them too. Therefore, bearings, brake pads, seals, races and brake plates all had to be replaced. Often, it's more cost-effective and better for the braking system to install new backing plates. The brake lines were old, brittle and leaking, so we replaced those too.
Most importantly, when you perform brake replacements on an axle, both sides have to be replaced. When you hear or feel the first signs that something isn't working right, it's time to book an appointment for an inspection. If you are uncertain and have questions about your brakes, feel free to call us. We're here for you. Learn more about trailer services here.