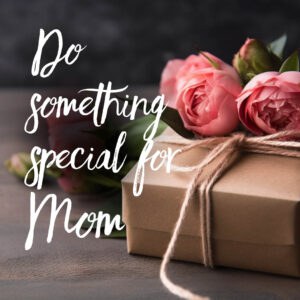 Your mom brought you into this world and she's been there for you through all the ups and downs of your life, from a bruised knee to your first breakup. Of course, mothers don't have to be directly related. They can also come to us through adoption, or perhaps a woman in your life who has stepped into the role in an informal way. Regardless, you have an opportunity on Sunday, May 14th, to show your mom how much you appreciate her. Here are some Mother's Day gift ideas.
Visit Her
Why not pack up the motorhome and go visit your Mom? Whether it's a surprise visit or you discuss the details in advance, it's sure to bring a giant smile to her face! Before heading out, how about getting your RV inspected so you can travel worry-free? Don't have time? No problem, Pro World now offers mobile RV service!
Plants and Flowers
What mother doesn't enjoy a beautiful bouquet of her favorite flowers? You could also make them last forever by taking her an assortment of bulbs and offering to plant them for her. Or, you can gift her a new fuchsia bush or lilac tree.
Wine Tasting
Not all gifts need to be tangible. Some people prefer experiences over things. If that sounds like your mom, and she loves wine, take her wine tasting in the Willamette Valley. There are as many vineyard options as there are styles of wine. So, pack up the motorhome with your favorite snacks and take your mom on a custom wine-tasting tour with you as her chauffeur!
Spa Day
Mom's never get enough time to themselves. From volunteer work to caring for her grandkids, it can be hard to find time for self-care. That's why spa days are a great gift! Book her a massage, facial, or mani-pedi. Pour her favorite beverage before you go, and offer to pick her up. Remind her how special she is to you.
The best gift for Mother's Day is giving her your full attention. Even if it's only a phone call, it will brighten her day. Also, don't forget other family members that are mothers, like your sisters or aunts. So pull out your calendar now and set a reminder for May 14th so you don't forget!